Cleaning Machines
Cleaning Machine Training Courses
General course information
The aim of this course is to ensure all delegates are competent to operate powered Cleaning Machines and Sweepers. The course is based on ride-on machines however can be adapted to suit walk with machines.
Course content
The Health & Safety At Work Act
Provision and Use of Work Equipment Regulations
Operators safety codes (safe driving in working environments)
COSHH assessments and safety data sheets
Correct cleaning methods and safe working environment
Safe and correct parking practices
Sweeping debris and using PPE
Emptying hopers and waste water
Battery care and maintenance
Pre-operational safety inspections
Experience required
No prior knowledge of topic required
Course duration
3 – 4 hrs
Number of delegates
0 – 3
Certification renewal
Recommended every 3 years however this may depend on the company's risk assessments and internal policies.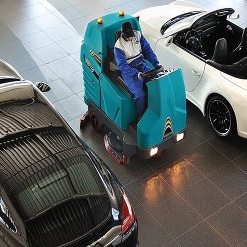 Facilities / requirements
A training room suitable for the number of delegates, PPE as required. by the companies risk assessments and method statements.
Availability
On-site / Training Centre
Certification
ITSSAR & In-house available