WITH LIMITED AVAILABILITY and Working inline with the Public Health England Guidelines
CB Training UK Ltd – Covid 19 – Guidance from the HSE – Cleared 26th March 2020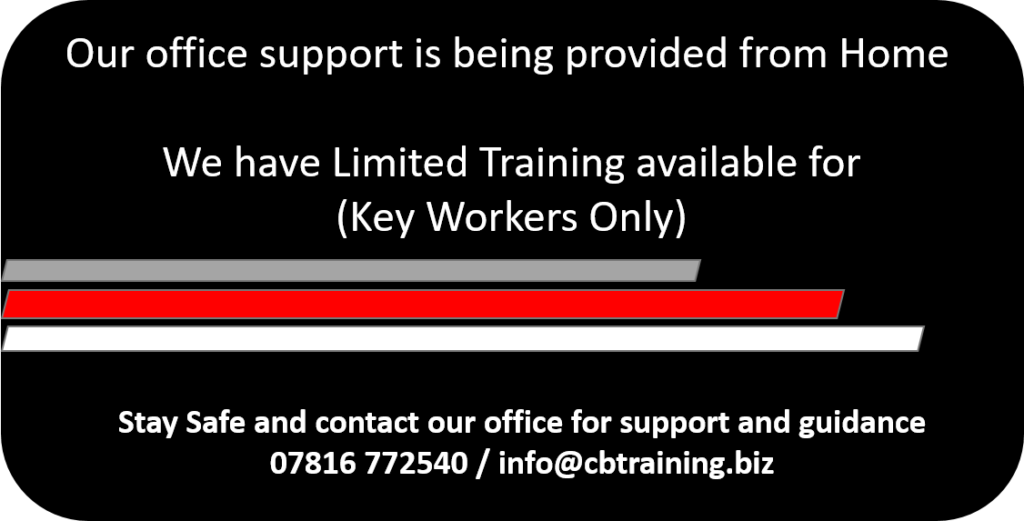 Existing trained staff
At CB Training UK Ltd we are here for you if you are classed as key workers and are dependent on essential training due to the high demand of the food supply chain, waste management, logistics and any other key work duties which are required to keep the country running.
We have taken some information direct from the HSE which may help you to decide whether your training requirements are essential or not.
You may have existing staff who will be due to refresh their previous qualification. The HSE are aware that the coronavirus pandemic may make it difficult for lift truck operators to renew/maintain their training certificates.
This may mean that they have a training certificate that has recently expired or is near to its expiry date, and despite their best efforts they cannot access requalification training.
Although certificates of training set an automatic time period for retaining in law there is no specific time period after which refresher training, or formal assessment is required and is down to your own company policy and insurance provider.
If requalification training cannot take place for reasons associated directly with coronavirus, such as complying with government advice on isolation and social distancing, it may be reasonable and practical to extend the validity of current certificates by up to 3 months.
Any employer or duty holder needing to utilise this extension period should be able to state clearly their reasons for delaying requalification training and demonstrate steps they have taken to undertake the training, if required. They should also be able to demonstrate that they are meeting their legal duty to monitor and supervise lift trucks drivers to ensure that they continue to operate safely.
This guidance comes in to effect for certificates expiring on or after 16th March 2020.
The HSE will review this matter over the coming months and will issue further statements as necessary.
Training of new staff / Key Workers
Where new workers are engaged or existing workers have to change roles, for example in the role of key workers that support the businesses that are required to keep the country running in industries where rider-operated lift trucks may be operated. In all cases, to prevent accident and injury, the duty remains to ensure that staff are trained and competent to operate any industrial lift truck equipment, and this includes driver training & the employer must be able to demonstrate that the driver is trained and competent.