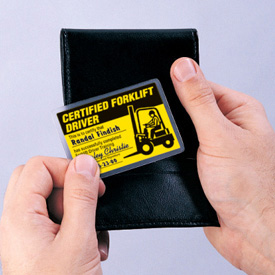 Forklift Operators Licence
CB Training I&G – Information and Guidance

Overseas forklift operator licences

There is no such thing as a forklift truck driver's licence in the UK. It follows therefore that a fork truck licence issued in any other country cannot be valid in the UK.

Some countries do issue licences to forklift truck operators. It is quite common for an individual from one of these countries, who is seeking employment in UK as a forklift truck operator, to offer this licence, with an authenticated translation, as proof of their ability to operate.

Whilst there may be no reason to doubt the authenticity of such documentation, this will not meet U.K regulations and guidance and therefore a potential employer should not accept this and needs to follow the guidance for operator training as per HSE L117 ACoP.

Under these circumstances treat the foreign 'licence' as though it were a training certificate from an unknown, unaccredited trainer.

The individual will be required to undergo a forklift operator refresh and test course as laid out by the ABA (Accredited Bodies Association).

Please feel free to contact one of our training team for further information and guidance on this or any other questions you may have:07816772540 / info@cbtraining.biz / www.forklifttrainingonline.co.uk